Chelsea vs Everton
(English Premier League)
Date: Saturday, 15th October 2011; Kick-Off: 17:30 GMT
Venue: Stamford Bridge
Chelsea vs Everton
- Catch all the latest team news, match preview, pre-match analysis, interviews, followed by LIVE match and a lot more right here at Chelsea FC News.
Chelsea vs Everton
- Finally the 2 week international break has come to an end and the Premier league action is back! These two weeks have felt like a month, it seriously sucks with no EPL action and I am eagerly waiting for this tie to start.
Chelsea arrive into this game with a comprehensive 5-1 win against Bolton at the Reebok where Chelsea probably played the best first half of this season so far. Game also marked the return-to-form of Super Frankie who scored a wonderful hat-trick and Danny Sturridge as well who continued his good performance in the blue jersey with yet another brace against his former loan team.
Everton on the other hand went down in their fierce derby against Liverpool losing 2-0 at home. Everton (along with Spurs) currently lie 13th in the table having played a game less than any other teams. David Moyes can be proud of his team who hung on to the game till the 70th minute after losing Rodwell to a dubious red card in 23rd minute, a red card which was later overturned by FA. But goals from Carroll and Suarez lend Moyes yet another defeat in their Merseyside derby.
Chelsea will also be wearing special shirts for the game against Everton, to mark "Help a Capital Child's" first national appeal special home shirts emblazoned with the charity's logo have been designed for the players.
For the first time the Help a Capital Child logo will be included alongside Samsung and adidas on the matchday shirts for the game against Everton, then signed by the players and auctioned off to raise vital funds to help young people and their families fight cancer.
Chelsea Team News
Chelsea will be without Fernando Torres who is suspended, serving his second match under suspension after sitting out in the 5-1 win over Bolton. Hilario and Michael Essien remain out injured. there are no other injury concerns following the international ties.
Didier Drogba should start in place of suspended Fernando Torres upfront.
Few players played two games like David Luiz while rest had just one game, so it all depends on how AVB looks at these situations and as it has been his policy in the recent matches. He will definitely start with a sqaud which is fresh and not tired because of too much football.
Everton Team News
Everton welcome back Jack Rodwell who's red card suspension was overturned by FA. David Moyes has no major injury concerns but always had to work with a depleted squad. And this game could see the same starting X1 against Chelsea.
Probable Team Line-ups:
Chelsea:
Cech, Bosingwa, Ivanovic, Terry, Cole, Ramires, Meireles, Lampard, Mata, Drogba, Sturridge
Everton:
Howard, Hibbert, Jagielka, Distin, Baines, Rodwell, Osman, Coleman, Fellani, Cahill, Saha
Referee:
Mike Jones.
>
Do let us know what will be your starting line up for the game against Everton this Saturday. Who will start for you? Lampard, Drogba, Luiz, Anelka..... Express your views and opinions on our
Facebook Fan page
Put on your thinking hats and predict the scoreline for this match... Just LIKE our Facebook Fan page and predict your scores...who will score first for Chelsea.. and express your thoughts and opinions on the match...
My starting line up would be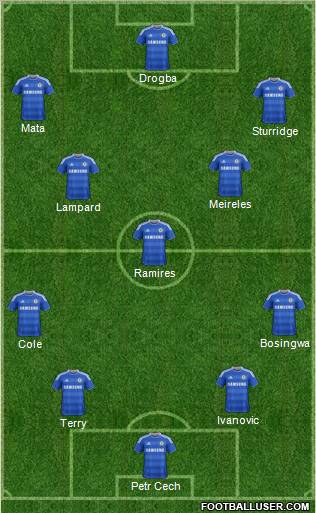 Andre Villas Boas shared his views and thoughts ahead of the game against Everton.
Chelsea FC - AVB on Everton
AVB on the game against Everton and David Moyes' side:
"To emphasize the importance of our game, Everton is looking for the sixth game unbeaten coming to the Bridge. We have to be alert and it is going to be a hard battle."
"The most important thing when an international break happens is for you to get into winning mode straight away. We managed to do that against Sunderland with a good display. I don't think it really breaks a winning streak because it's the nature of the calendar and you cannot avoid it, but you have to get into winning mode straight away."
"Everton were on a very good run in my opinion, they lost against Liverpool but had they won they would be up challenging for the top with one game in hand. So they are in a good situation and once again proving that David Moyes's work is something fantastic. Even with the financial problems they have it is a club which is well organized and managed and something that should make the English public proud."
"In football and paper things look different but surprises happen, it's why I don't believe in having a favorites role in every game we play because the unpredictable can happen."
"With two difficult games against Everton and Queens Park Rangers we will try to get six points and see how we benefit from that situation, if it doesn't happen we just have to focus on the rest of the Premier League season to shorten the gap."
AVB on Team News ahead of the game against Everton
:
"Of course a couple of the players were involved in two games, the English just one, so we had people arriving at different times, David Luiz will arrive today, but everybody is injury free so in that sense we only have Hilario and Essien still out. It is a big trip coming back and he was involved in both games, so it's a decision we have to take."
"We have a decision to make in every game, we are just confident in the work we do and eventually hopefully we can choose the best 18 and starting 11 possible to take us through to another important win."
"Everybody is competing to the highest level and we have to make our choices. I haven't made a decision yet. Tomorrow is the day we prepare strategically for the game, the players don't know about the decision and it would be unfair to say it before they know it."
AVB on transfer and contract speculation (Drogba, Kalou and Bosingwa):
"There is nothing new, this is a situation where we cannot discuss every week. It is better for us that when there is something to tell you we can announce it. We are dealing with the offer. End of story."
"Regarding market speculation it is going to be difficult to comment on all situations, Kalou was offered a contract and hopefully we will continue talks."
"In January these players are available to discuss their future but I think the fact they are emotionally attached to this club means we can count on them as a player independent of what happens in negotiations."
"The talks are ongoing. The option that we have protects us regarding Bosingwa until April 5 but the talks have now started and it won't be difficult. We are initiating talks with him."
Juan Mata on Everton:
"I think Everton is a difficult team to play against with strong players, conducting his first interview in English without the help of Spanish interpretation. The strikers are tall, they have good players and we have to be prepared with the crosses, which will make things difficult for us."
Juan Mata on Everton's Left-winger Royston Drenthe:
"Drenthe is a good player, I know him. He is fast, has a good left foot, can score goals and supply crosses. He is a very good player."
"Put to him that he could have been describing himself, I think he is faster than me! There is that and my play is more inside, he is a winger, winger, winger."
"I don't know if what happened to him in Madrid would have happened to me. Every player has a different career. In 2007 I went to Valencia and I am happy that I did, because I had four years there that were very good to me."
Official Team News, Pre-match interviews, detailed match preview and much more to FOLLOW SOON
KEY STAT
Everton have not won a Premier League match at Stamford Bridge in 17 years.
Our last meeting at Stamford Bridge

Our 10 previous meetings at Stamford Bridge
2001/02 - Chelsea won 3-0
2002/03 - Chelsea won 4-1
2003/04 -Drew 0-0
2004/05 - Chelsea won 1-0
2005/06 - Chelsea won 3-0
2006/07 - Drew 1-1
2007/08 - Drew 1-1
2008/09 - Drew 0-0
2009/10 - Drew 3-3
2010/11 - Drew 1-1
Chelsea v Everton in all competitions
Games played 163
Chelsea wins 61
Everton wins 50
Draws 52
Head-to-head in the League at Stamford Bridge
Games played 72
Chelsea wins 35
Everton wins 12
Draws 25

Biggest league win at Stamford Bridge for each team
11/09/1948 - Chelsea 6-0 Everton
15/03/1913 - Chelsea 1-3 Everton

CHELSEA STATS
Chelsea have won 9 of our last 10 EPL games at Stamford Bridge. Our last home defeat was against Liverpool on Feb 6.
We have only kept one clean sheet in our last 11 Premier League games - at Stoke on the opening day of the season. Chelsea have won all four Premier League games when we have opened the scoring.
John Terry will make his 350th Premier League appearance for the Blues and Ramires will make his 50th Chelsea appearance.

Chelsea need four more league goals to reach 6,000 in our 106 year history.

EVERTON STATS
Everton have only one away win out of their last five meetings with three defeats. Suffering defeat against Liverpool two weeks ago was the first occasion for 68 games that Everton lost consecutive league matches.
Everton have kept two clean sheets in their last 13 games in all competitions. David Moyes is the fourth longest serving manager in the Premier and Football League behind Sir Alex Ferguson, Arsène Wenger and John Coleman of Accrington Stanley.
So get ready for some pulsating action at the Stamford Bridge. Come on CHELSEA!!! KTBFFH.