Chelsea vs Genk
Date: Wednesday, 19th October 2011; Kick-Off: 19:45 GMT
Venue: Stamford Bridge
Chelsea vs Genk
- Catch all the latest team news, match preview, pre-match analysis, interviews, followed by LIVE match and a lot more right here at Chelsea FC News.
Chelsea vs Genk Preview
Its back to the Champions league action for Chelsea as they prepare to host Belgian club KRC Genk at Stamford Bridge. Chelsea who played out a 1-1 draw at Estada Mestalla against Valencia in their last Group E match sit at the top of the table with four points from two games.
On the other hand, Genk suffered a 2-0 loss to German side Bayer Leverkusen away from home. Genk currently have just one point from two games and are placed at the bottom of Group E, earning their solitary point from the 0-0 draw against Valencia at home. This is the first time Genk will be playing against a English side in England.
This is the first time both clubs will be facing each other, having no past encounters in any form of league football. Although Andre Villas Boas does know about our opponents having faced them in the Europa league last year when he was the manager at the Portuguese league champions FC Porto. The encounter ending with a 7-2 aggregate win for Porto.
Another connection which Chelsea or AVB shares with Genk is the signing of Thibaut Courtois who was signed by AVB from Genk and later loaned out to Atlético de Madrid.
Chelsea hold the upper hand going into this game but KRC Genk will also be eager to prove their point as to why they deserve a place in the Champions league.
What does their domestic league form say ahead of this Champions League fixture
??
Both teams are are having contrasting domestic league form, with Chelsea picking up form and points in their recent run of games whereas Genk have slowly lost the form and have been dropping points as games go by.
Chelsea came off with a impressive win over stubborn Everton at home. 3-1 win over Everton brought us close to the Manchester leaders with a point behind 2nd place Man U and three points behind leaders Man City.
Genk on the other hand have faltered in their recent games losing to Anderlecht and Lokeren, and now have just two wins from their last five games. This poor run of form sees them 7 points behind league leaders Anderlecht.
Given that the game is at Stamford Bridge Chelsea are expected to win this game. But no game is easy in UEFA Champions league as even Genk will be hungry to get some points on-board.
Chelsea Team News
AVB has confirmed that Ramires who was substituted in the last game against Everton after suffering knee injury will miss out on this game. Hilario and Michael Essien remain out injured.
Chelsea will welcome back Fernando Torres to the starting line-up after having to sit out of the domestic fixtures following his red card incident. And AVB will surely have some selection dilemma as far as the strike force is concerned. Daniel Sturridge has been in rich vein of form and Didier Drogba is making his comeback.
With games coming thick and fast AVB will surely make some changes to the line-up ahead of this game at Stamford Bridge. Likes of David Luiz, Raul Meireles, Malouda, Anelka & co. could feature for Chelsea.
Genk Team News
Genk will be without Nadson, Jelle Vossen and Jeroen Simaeys all due to injuries.
Genk are likely to retain their 4-4-2 formation with the Anele Ngcongca starting at the centre of defence alongside Abel Masuero. Anthony Vanden Borre will occupy the right back position with Daniel Pudil on the other side. The midfield is likely to have Khaleem Hyland and Daniel Tozser at the centre, with Kevin De Bruyne and Thomas Buffel on the left and right wings respectively.
Striker Elyaniv Barda could also play some part in the match alongside Marvin Ogunjimi.
What could be the starting line-up for the Chelsea vs Genk at Stamford Bridge??
Probable Team Line-ups:
Chelsea
: Cech, Bosingwa, Luiz, Terry, Cole, Lampard, Malouda, Mata, Meireles, Torres, Anelka
Genk
: Köteles, Ngcongca, Masuero, Pudil, Vanden Borre, Hyland , Tőzsér, De Bruyne, Buffel, Ogunjimi, Barda
Do let us know what will be your starting line up for the game against Genk this Wednesday. Who will start for you? Lampard, Drogba, Luiz, Anelka..... Express your views and opinions on our
Facebook Fan page
Put on your thinking hats and predict the scoreline for this match... Just LIKE our Facebook Fan page and predict your scores...who will score first for Chelsea.. and express your thoughts and opinions on the match...

My starting line up would be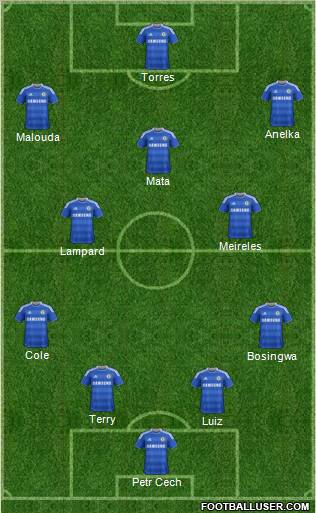 Chelsea FC - Cech on Genk
Chelsea FC - AVB on Team news pre Genk
Andre Villas Boas on Genk, injures plaguing the squad and possibility of Chelsea finishing the group on top:
"One win puts Genk back in the battle for qualification and that is what we want to avoid, Tomorrow will be very important because we are at home. The opportunity is there but it is never easy."
"We had a draw in Valencia but we were so close to winning and now the group has become tight and anything can still happen. It is this unpredictable situation that we want to cut off by winning this first game. Also the Leverkusen-Valencia games will have something to say."
"I was made aware by my scouts involved in studying Genk that they are going through a period of a tremendous amount of injuries, which is unfortunate for them."
"They even had injury problems out of the return from the national teams, and they are going through a period of a lot of change in all kinds of aspects. First getting into the Champions League group stage for the first time in a while which is something very massive for the club, then the departure of [coach] Frank Vercauteren and a couple of big talents at the beginning of the season, and then the time they are adapting to Mario Been and his methods."
"It has made things difficult for Genk in the beginning of the season but this game is the ideal situation to find a different motivational stimulation for your team. When this is the case people can transcend themselves and create you problems so we have maximum respect for Genk."
"We know people will play out of position against us [due to injuries] but they will always be able to put a strong team out that can create us difficulties. We have to be aware and very concentrated in the 90 minutes."
AVB on the talented Genk midfielder Kevin de Bruyne:
"He is an interesting player, He can play in various positions, from wide left in a 4-4-2 or through the middle as a central midfielder."
"He is exceptionally gifted technically and reminds me of past technical Belgian players like Enzo Scifo, but he still has progression to be made and his next step, if he is thinking about moving, will be the most difficult one."
"We have not scouted just him, we have scouted many different players before so it doesn't mean that all the players we scout will eventually join us. We have to make the right decisions because it is always difficult to get into the Chelsea team."
"But he [De Bruyne] is an exceptional talent and hopefully he can continue to triumph in Genk and the Belgian national team."
Key Stat
Chelsea are unbeaten in 24 group stage fixtures at Stamford Bridge, winning 18 and drawing six since a 2-0 defeat to Beşiktaş on 1 October 2003.
Stats and Records
Chelsea's biggest home win in the Champions League
19/10/2005
- Chelsea 4-0 Real Betis - group stage
16/09/2008
- Chelsea 4-0 Bordeaux - group stage
21/10/2009
- Chelsea 4-0 Atlético Madrid - group stage
Genk's only away win in the Champions League
08/08/2007
- FK Sarajevo 0-1 KRC Genk - second qualifying round
Chelsea have topped our group six times in the last eight UCL campaigns. We have never failed to progress to the Champions League knockout stages in nine attempts.
Chelsea have lost just two and won 19 of our last 28 home Champions League matches since 2006.
Chelsea's last ten years in Europe
2001/02
Uefa Cup - second round
2002/03
Uefa Cup - first round
2003/04
Champions League - semi-final
2004/05
Champions League - semi-final
2005/06
Champions League - round of 16
2006/07
Champions League - semi-final
2007/08
Champions League - runners-up
2008/09
Champions League - semi-final
2009/10
Champions League - round of 16
2010/11
Champions League - quarter-final
Chelsea's overall record in European competition is played 175, won 92, drawn 48, lost 35. This is our 15th season in succession in Europe and 10th in the Champions League.
Tonight is our 108th match in the Champions League including qualifying games. We have won 54 of our 107 games, drawn 32 and lost 21.
Official Team News and LIVE Match to FOLLOW SOON...
So get ready for some pulsating action at the Stamford Bridge. Come on CHELSEA!!! KTBFFH.