Chelsea vs Liverpool
(English Premier League)
Date: Sunday 20th Nov, 2011; Kick-Off: 16:00 GMT
Venue: Stamford Bridge
Chelsea vs Liverpool -
Catch all the latest team news, match preview, pre-match analysis, interviews and a lot more right here at Chelsea FC News. This is the first of two meetings between the rival sides over ten days at Stamford Bridge with the next scheduled match on 29th November is the League Cup quarter final tie.
Chelsea vs Liverpool Preview
International breaks never make you feel good and same was the mood last weekend, a weekend without any EPL action is not a weekend anymore. But we have something very exciting to look forward to, this Sunday. Its a Super Sunday for both Chelsea and Liverpool.
Chelsea go into this game with a hard fought win against struggling Blackburn Rovers team at Ewood Park. A solitary goal from Frank Lampard ensured Chelsea get back to winning ways after back-to-back defeats to QPR and Arsenal.
Liverpool had to settle with a frustrating goalless draw against Swansea, a game which Liverpool should have won but were denied by the heroics of Swansea keeper Worm. Liverpool are on an eight-match unbeaten run but still find themselves in lower half of the table due to some frustrating draws against newly promoted teams.
Both teams (Chelsea & Liverpool) are separated by three points with Chelsea 4th and Liverpool 6th in the League table. A win for Chelsea (if Newcastle lose to Man City on Saturday) will take Chelsea back into the 3rd spot ahead (level on points) of impressive Newcastle United side. But if Chelsea lose to Liverpool and if Arsenal and Tottenham win their respective games then Chelsea could find themselves in 7th place in the League table.
All eyes again would be on one man FERNANDO TORRES. It was Nando who scored twice against Chelsea for Liverpool last season, the season where Liverpool made the double over Chelsea with yet another former Reds Meireles on the score sheet as well.
To be frank Torres hasn't fired so far for Chelsea (just three goals in English Premier League since Jan move) and nobody knows it better than him alone. We want Torres to be back in the fluent form he showed in his days at Liverpool, its not that he hasn't shown those glimpses of form..its just that it hasn't been consistent and full of confidence. This game will surely provide that much needed hunger to prove his worth and to show that he can reach the performance level he reached during his time with the Reds, and previously with Atletico Madrid.
In his recent interview he stated that he is determined to repay supporters by getting back to his best.
"Whenever you go somewhere new, you expect to have difficulties, But whenever I have had difficult times, I look at myself and say, 'Yes, I can get back to my level."
"All that I need to do, above anything else, is to work. If you work and give everything and really want to do something, that is all you can be asked."
"But I am in debt to the Chelsea fans. They have always supported me. And I promise them the one thing I have never done and will never do in my life is give up."
So this is a crunch game for Andre Villas Boas' side. A game where three points will not only take us in top 3 but also give the much needed boost and confidence which we seem to be lacking as of late. It wont be a easy game given the the squad Kenny Dalglish has at his disposal. Surely seems to be a cracking game on paper..hope it transforms into the same on-field.
Andre Villas Boas Press Conference pre Liverpool


Andre Villas Boas on Daniel Sturridge:
"His [Sturridge's] performances for the club have taken him to his England first appearance which is something that is gratifying, When somebody arrives to that level you must continue to be up to that level so that is the challenge that Daniel has to face. He has to face that challenge in the club and then eventually, if [Fabio] Capello decides, in England - but it was a good experience for him."
AVB on the formation changes against Blackburn and change of personnel:
"Blackburn are always a team that could challenge you from any set plays and from almost any goal-kick, so we made the necessary adjustments to have extra height to deal with the set plays. To deal with them it is better to avoid them first but when you cannot avoid them, it is better to deal with them the best way so it was a specific team set out for a specific game."
"In attack we tried to get more runs in behind with pace and that is why we opted for Daniel. The decisions were based on that, not on a drop in form of any players."
AVB On Fernando Torres and his form:
"Fernando Torres has picked up from last season not only with his form physically but his availability in terms of movement for the team. He is back to his old sharpness and back to goal scoring so we are pretty happy with him the way he is performing. So we just have to make a decision in terms of what we want in behaviour from our front line. Fernando will always be in contention for that."
"Torres is not just about goals, he's there to create and to help his team and I'm happy with him, It's not a question of numbers, but how you make your team perform around you."
AVB on facing Liverpool:
"This Liverpool game also has different kinds of specifics and you have to adapt to what the game is going to represent."
"I think [Kenny] Dalglish has made the necessary changes to Liverpool for them to continue to be title contenders this year. The seven players that he brought in represent the level of commitment and investment that the ownership and Kenny have towards putting Liverpool back on title-winning ways."
"I will always take them like that because they represent one of the biggest clubs in England."
AVB on his team's performance:
"A striker is not only there to put the ball in the net. He's there for your team to perform and to create the goalscoring opportunities to take your team to win the games."
"At the moment our two main goalscorers are the two midfield players [Lampard and Ramires], but for them to finish, somebody must be creating, We create as many chances when we win as when we lose, but it doesn't mean the same players are always involved. The team is creating goalscoring opportunites so at the moment I'm happy with that performance."
"Confidence is about how you feel and how you relate to the team around you; good things you did can inspire you during good and bad moments."
In the mean time put on your thinking hats and let me know
what will be your starting line up for the game against Liverpool this Sunday. Who will start for you? Lampard, Torres, Luiz, Anelka..... Express your views and opinions on our
Facebook Fan page
as well
.
My starting line up would be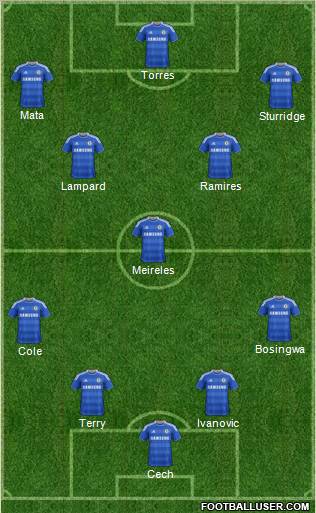 KEY STAT
The three Liverpool goals against Chelsea last season were scored by Fernando Torres (two) and Raul Meireles, both now at Stamford Bridge.
Our last meeting at Stamford Bridge
Chelsea v Liverpool in all competitions
Games played 160
Chelsea wins 56
Liverpool wins 71
Draws 33


Head to head in the League at Stamford Bridge
Games played 68
Chelsea wins 37
Liverpool wins 17
Draws 14


Biggest league win at Stamford Bridge for each team
Chelsea 6-1 Liverpool -28/08/1937
Chelsea 2-5 Liverpool - 16/12/1989
CHELSEA STATS
Chelsea have now won 10 of their last 12 Barclays Premier League games at Stamford Bridge. Chelsea haven't had a clean sheet at home this season. Our last home Premier League clean sheet was in the rain against West Ham in April eight games ago.
LIVERPOOL STATS
Liverpool are on an eight match unbeaten run since their 0-4 defeat at Tottenham on 18th September. Only Newcastle United have conceded fewer than Liverpool's 10 goals. The Reds boast the third best defence away with only five goals conceded in five games.
Liverpool have won nine points from 15 away from home this term with wins at Arsenal, Everton and West Brom and defeats to Stoke and Tottenham.
So get ready for some pulsating action at Stamford Bridge. Come on CHELSEA!!! KTBFFH.