Chelsea v Manchester United
(FA Cup - Quarter Final: 2nd Leg)
Date: Monday 1st April, 2013; Kick-Off: 12:00 GMT
Venue: Stamford Bridge
After the disappointing loss against Southampton at St Mary's in the English Premier League, all heads now turn to the 2nd leg of quarter final of FA Cup at Stamford Bridge.
The first leg at Old Trafford seemed to be going in Manchester side's favor with two early goals from Hernandez and Rooney but a second half fight back saw Chelsea earn a 2-2 draw with second half goals from Hazard and Ramires.

The winner of this tie will face Manchester City in the quarter final at Wembley Stadium on April 14th.
Its another super-duper clash between two rival teams.
Chelsea vs Manchester United - Match Preview
Voices from both teams have been the same as far as the fixture schedule is concerned. With just a gap of a day between two fixtures both Benitez and Ferguson have voiced their opinion over the timing of the match. Players themselves have raised concerns over the fatigue issues. Its a total new experience for everyone as never have been two matches so close to each other.
But the game has to go on and critics will disagree as both teams did rest some of their key players. Chelsea giving rest to likes of Luiz, Mata, Ramires, Ba and Hazard while Manchester United giving rest to Giggs, Ferdinand and Rooney.


FA Cup has its own importance and Chelsea's presence in the last six years in this competition is far great than that of Manchester United's
Chelsea are the current holders of FA Cup having defeated Liverpool 2-1 in 2012 Final. This was our fourth triumph in six years and seventh overall.
Though Manchester United still hold the record for most wins in FA Cup; 11 in all, their last being in 2004.
Player and Manager Talk
Fernando Torres spoke ahead of the replay at Stamford Bridge
"Against Man United it was a great comeback and a great second-half performance, We must now approach this game on Monday like it's the second half of the game, it's now half-time, and we need the same intensity and spirit that we showed at Old Trafford.

"
"

There is another game at Wembley waiting and a great team, Manchester City, waiting for us. It's a difficult route but if we beat Man United and then City, we will deserve to win because we have beaten the best teams in England.

"
"

The finals are not far away. It is two games to be in the FA Cup final and four games for the Europa League, so let's go for it.

"
"

Indeed today's game comes just two days after defeat at Southampton and three days before we entertain Russian side Rubin Kazan in the quarter-finals of the Europa League, with a number of big games to follow as the season approaches its conclusion.

"
"

This is the final part of the race, we have everything still to play for and it depends on us, We have the FA Cup replay to go through and then play the semi-final, we have the Europa League and the need to secure a top four position so we can be back in the Champions League next season. We need to be ready.

"
[
source
]
Benitez ahead of the clash against Manchester United
"Monday is a big game against a very good side but we showed in Old Trafford we could do it, and we will try to.

"
"United are top of the table and we were better than them in the first game. We can compete. When you play two games in three days it is not easy, and we are doing well for the situation we have.

"
"United have a very strong squad. Analyse the four strikers they have, we have two. It was a problem when we had just Fernando Torres but with Demba Ba we have two options. We have offensive players with enough quality to create, but in some positions to find the balance is not easy.

"
"To play two games a week for four months is not easy to keep the team at the same level the whole time.

"
"We have played some nice football, scored a lot of goals, but still, we have to be more consistent."
"The players that were training with us during the international break, I knew they were fine and ready, The players coming back, you think, "okay fine", but the team were good enough to beat Southampton if we played with the same intensity of the second half.

"
"When everything is going well and you have to make decisions, everybody is happy and more confident for the next game.

"
"We play at a level we played two weeks ago we can beat anyone. It's a question of everybody being focused and not making mistakes."
[
source
]
Team News
To follow soon
Get Interactive
Be the team manager and select the team which you think should take on Manchester United in FA Cup Quarter finals.
Who will start for you? Will it be Terry and Cahill in defense? Lampard and Mikel in midfield? Torres or Ba upfront? Share your team views right here or you can also visit our
Chelsea FC Facebook
page.
Also Share your thoughts, opinions and views on the game.
My starting line up would be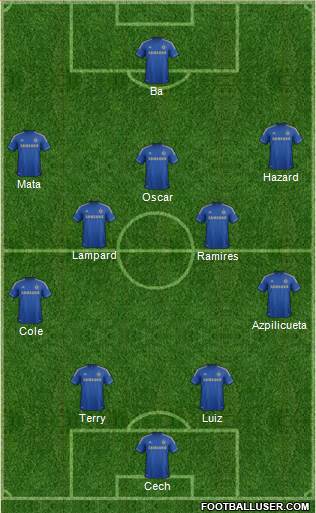 So get ready for some pulsating action at Stamford Bridge. Come on CHELSEA!!! KTBFFH.
Follow the blog on Facebook -
Chelsea FC Facebook
Add to your circles on Google Plus -
Chelsea FC Google Plus
Follow me and my blog on Twitter -
Chelsea FC Twitter
Grab my RSS Feed -
Chelsea FC Feed